Celebrating Christmas together with a feast: For many this is a special occasion in the spirit of giving. For the festive meal, meat or fish is frequently on the menu. However, worldwide meat production is responsible for 14.5% of all greenhouse gases, or 7.1 gigatonnes of CO2 equivalents, every year. So why not try our climate-friendly Christmas menu instead?
If you want to enjoy a climate-friendly Christmas meal, you can prepare a delicious menu using countless vegetarian and vegan recipes. Our climate-friendly Christmas menu features saffron soup, a nut roast with mashed potatoes, and cinnamon panna cotta with caramelized apples. At around 1,409 grams of CO2 per person, this particular menu saves 76% on CO2 contrasted with the traditional Christmas 3-course dinner of shrimp cocktail, fondue Chinoise and chocolate mousse (calculated via eaternity, based on the ingredients; excluding preparation). Thus, you can serve delicious, innovative and festive dishes while at the same time doing the climate a favor.
A comparison: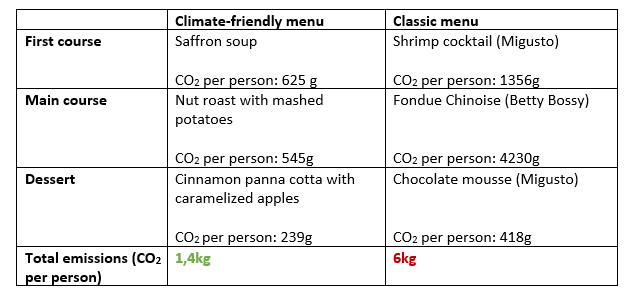 Saffron soup
(Based on Vegan Love Story: Tibits and Hiltl: The Cookbook, modified by Alison)

Ingredients for 4 people:
1 sachet (approx. 2 teaspoons) saffron powder
200 ml white wine
! garlic clove
½ to 1 onion
1 celery root
1 ½ – 2 starchy potatoes
1 small leek
2 tablespoons olive oil
2 teaspoons cane sugar
1 l vegetable boullion
200 ml half-and-half
salt, pepper
Peel and finely chop the onion and garlic. Peel celery and potato and cut into cubes, clean leek and slice into rings.
In a saucepan, sauté the onion and garlic with the oil, then add the celery, leek and potatoes and continue cooking for a few minutes. Add sugar and let it caramelize slightly, then deglaze with the wine. Let everything simmer until the amount is reduced to about half. Add bouillon and cook for another 20 minutes.
Add the half-and-half and saffron, bring soup to a boil again. Blend with a hand mixer and season to taste with salt and pepper.
Nut roast with mashed potatoes

Nut roast:
Follow this recipe: Nut roast for 8-10 people. Additional Tips:
In Switzerland, dried cranberries can be substituted for fresh cranberries (as these are not always available). Be generous — the cranberries make the difference!
The recipe also works with a package of dried porcini mushrooms (approx. one large handful) and as opposed to fresh mushrooms, though a bit more travel time (about 100 g).
Add spices, chili, and lemon to taste. The chili pepper seeds can be removed to reduce spiciness.
The roast has a long shelf life, so it is advisable to prepare at least half the quantity for serving as it will taste just as good in the days after. It falls apart slightly when slicing, thus, it is best to bring the roast to the table and serve it as a whole.
Mashed potatoes:
For the mashed potatoes simply follow this recipe. Additional Tip:
Arrange the mashed potatoes using a piping bag or serve Duchess potatoes to add a certain flair.
Cinnamon panna cotta with caramelized apples
Panna cotta:

Find a basic recipe for a Panna cotta here. Adjustments and tips:
Add only a small amount of vanilla bean.
For the cinnamon panna cotta, add 1 additional cinnamon stick to bring to boil, and some ground cinnamon (adjust the amount to your taste!)
Instead of gelatin for a vegetarian version, use 4 teaspoons of Agar-agar,

a natural vegetable gelatin counterpart from Migros (quantity may vary depending on the product). Using agar-agar, first boil the entire amount without agar-agar, then let it cool. Then add the agar-agar and bring to a boil again.

Dip the moulds for a few seconds in hot water to release it if they do not automatically come out; the panna cotta should simply slide out. Alternatively, one can use small glass bowls to avoid any issues.
Caramelized apples:
2 Boskop apples (approx.)
120 g brown sugar
1 tablespoon lemon juice
1 to 2 tablespoon water
Slice apples into wedges or chunks, prepare lemon juice (if using fresh squeezed).
Boil the sugar with the water in a pan until it caramelizes, add lemon juice.
Add apples and boil. The moisture from the apples will liquefy the mixture. Boil for about 15 minutes (depending on the water content of the apples) so that there is about 1 dl of liquid left. This liquid will be removed from the apples when they are no longer cooking. If you want some sauce, there should be a little remaining. Otherwise cook at a boil a bit longer.
Article by Alison Brooks.