What is the best way to see how climate change is affecting your favourite glacier? It's not with a graph showing the ice cover on a PowerPoint presentation and not even with satellite photos: it's with direct experience!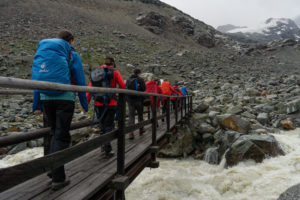 On August 7th, 2019, an excited group of brave snow lovers hiked together with myblueplanet to the Morteratsch Glacier in Switzerland, to support the I AM PRO SNOW campaign. The campaign was launched with The Climate Reality Project, a non-profit organization founded by former US Vice President and Nobel Laureate Al Gore, who is involved in education and advocacy related to climate change. myblueplanet is expanding the campaign in Switzerland, inviting cable car companies and mountain communities to switch to 100% renewable electricity.
We met in St. Moritz the day before, where we had the time to share a good meal, to play card games and to learn about the dynamics of climate change. We discussed its causes and how it is affecting our weather, precipitation, snow patterns and economy. We also learnt concrete ways to fight the climate crisis as an individual and as an I AM PRO SNOW Ambassador. The I AM PRO SNOW Ambassadors Seraina Boner, Kalle Koblet, Valtin Flütsch and Felix Keller were part of the group and ready to witness the massive retreat of the Morteratsch glacier.
The adventure started early with a rich breakfast accompanied by the enthusiasm of Felix Keller, who talked about how glaciers are being affected by climate change and what the consequences of retreating ice look like. He also showed us a solution to prolong water supply in warm seasons with the construction of an Ice Stupa. Ice Stupas are a simple technology to recycle and store meltwater. Many have been built in Ladakh, India to water crops and farms, as well as here in Switzerland to raise awareness about the climate crisis.
The Morteratsch glacier is truly remarkable: its highest point is above 3'900 metres, while the tip of the glacier terminus reaches down to 2'060 metres above sea level. Together with the Pers Glacier, which joins the Morteratsch glacier below the rock formation Isla Persa, the total ice surface is 16 km2 This is the size of 1'772 football fields. Its average thickness of 70 metres is also impressive. The thickest part below Piz Morteratsch is even 300 metres thick -enough space for the Eiffel Tower to disappear under the ice, except for its antenna tip!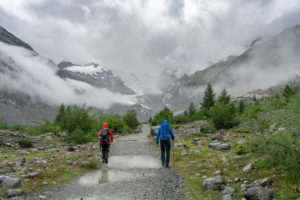 Unfortunately, the glacier has retreated by almost 3 km since 1878 and thus we had the opportunity to walk on its glacier bed. It was as if we were travelling in time, as signs were signalising the former extent of the retreating glacier in five-year steps. When we finally reached the glacier terminus, we encountered a storm, that convinced us to walk around the glacier rather than over its top. Safety first!
While hiking and admiring the nature around us, Felix was sharing details about the Morteratsch Glacier, as it is a living proof of how bigger glaciers react slowly and small glaciers react and melt faster. As a small/large glacier, Morteratsch Glacier melts slowly/quickly by half a cubic meter per second, In 2009 there was an abnormal occurrence: 4°C warm meltwater created a large circular crack. A beautiful blue ice cave appeared in the process Together with two other caves, it became one of Switzerland's largest cave systems. This was an impressive and transitionary spectacle, as glacier caves are very unstable: the following year,it melted into a river.
After hours of walking in nasty weather with a big smile on our faces, we reached a warm hut where we had an invigorating meal. Thanks to Felix we discovered there might be hope for stabilizing our glaciers and their role as water reserves with an original and ambitious project called "Mort-Alive". Then, facing fog and rain, we hiked down back to the glacier bed.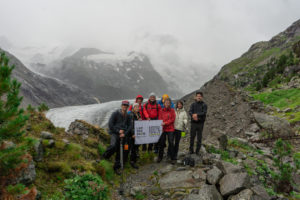 It has been a great experience: we got the chance to know each other, and to talk about sports and mountain experiences. We heard about the impacts of climate change in the Alps andsaw the massive loss of ice of the Morteratsch glacier since 1878 with our own eyes.
Thank you to:
– Adrian for keeping us safe in the middle of the nasty weather.
– Felix for the great insights into Ice Stupas and the glacier.
– Roman for shooting the first elements of our videos.
– Jan & Patricia for your help and for taking pictures and posting them on social media.
– Joelle and myblueplanetfor having organised such a remarkable experience!
– Everyone in the group for keeping their smile in the rain!
From the heart, thanks to everyone for their participation in the Morteratsch Glacier Tour Experience! It is clear for everybody: the time to act on the climate crisis is now! #IAMPROSNOW
#CommitTo100
#myblueplanet
#LeadOnClimate
#voteforsnow