During the Christmas season, we like to indulge in a little more of everything, whether it's sweet treats, a festive meal or presents. For this reason, the Christmas season is often a burdening time for the climate. But we can make a big difference with small changes.
In recent years, awareness of climate change and the associated costs for people and the environment has increased. And more and more people are looking for ways to contribute to climate protection in their everyday lives.
Climate protection during the Christmas season
About 15% of global greenhouse gas emissions come from livestock production with meat, especially beef, being the main contributor. For example, the production of 1 kg beef causes 44.5 kg more greenhouse gas emissions compared to root vegetables or the equivalent of emissions from about 59 kilos of various legumes.
When you think of meat production, the image of a grass-eating cow in a lush meadow may come to mind. But that only corresponds to reality in a few cases. The meat supply chain often begins with deforestation and enormously high water consumption for the production of feed for farm animals. Added to this are costly packaging and long transport routes until the meat is finally on the supermarket shelves.
Rethinking habits
The way we live, eat and consume has a big impact on the climate and the environment. Therefore, we can make a big difference with our daily consumption decisions, for better or for worse. So it's high time that we all rethink our eating and consumption habits. The start of a climate-friendly diet begins with paying attention to the food we buy. Because every purchase is a voting slip.

3-course Christmas menu: Indulgent & climate-friendly
Scientists have calculated that a three-day Christmas celebration can cause an average of up to 650 kg of CO² per person, and of that, up to about 26 kg of CO² can be attributed to Christmas menus. To help you enjoy this year's Christmas dinner sustainably without sacrificing indulgence, we've created an exclusive 3-course Christmas menu for you and your loved ones. The menu is vegetarian, but the dairy products can easily be replaced with plant-based products.
Appetizer: Beetroot soup
4 persons
CO2 per capita: 556g
Ingredients
800g fresh beetroots
300g potatoes, floury
1,5 L vegetable broth
1/2 tsp cardamom, ground salt & pepper
2 tsp horseradish, grated salt & pepper
2dl cream
4 stalks fresh mint
Preparation
Preheat the oven to 200°. Peel the beetroot and potatoes, cut them into small pieces and bake them in the oven for 20 minutes. In a large saucepan, boil the vegetable pieces with the broth for about 15 minutes and then blend. Season with cardamom, salt and pepper. Add the horseradish and puree again until smooth. Season to taste and serve with cream and fresh mint.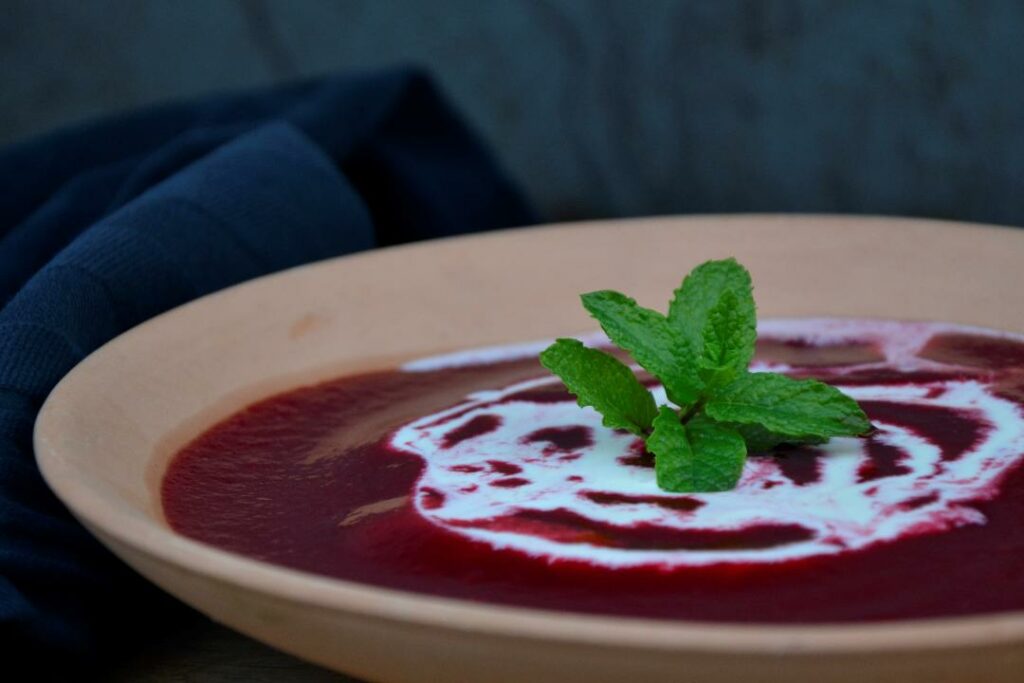 Main dish: Butternut Bake
4 persons
CO2 per capita: 390g
Ingredients
STRUDEL
1 shortcrust
1,5kg butternut squash
80g Jerusalem artichoke
1 egg
SPINACH
20g vegetable butter
1 small onion, finely chopped
500g fresh spinach
2 pinches of nutmeg
salt & pepper
RED CABBAGE
40g vegetable butter
20g sugar, white
1 small onion, finely chopped
3/4kg red cabbage, shaved
3 tablespoons apple cider vinegar
1 apple, grated
1 tsp caraway seeds
20g flour
1 pinch salt & pepper
Preparation
Peel the butternut squash. Then cut a small hole at the bottom and scrape out the pumpkin seeds with a thin long spoon. Place a sheet of baking paper on a baking sheet and roll out the dough. Finely grate the Jerusalem artichoke and press it lightly into the inside of the dough before wrapping the butternut squash. Brush the strudel with water and bake for 40 minutes at 180° in top and lower heat.
SPINACH
In a pan, heat the butter and saute the onions, followed by spinach. Season with salt, pepper and nutmeg.
RED CABBAGE
Melt the butter in a pan, add the sugar and let it brown until golden. Add the chopped onions, followed by the red cabbage, vinegar, apple sticks, caraway seeds, brown sugar and a pinch of salt. Stir well, cover with lid and steam until tender. Dust the cabbage with flour, then add water. Season to taste with salt and pepper.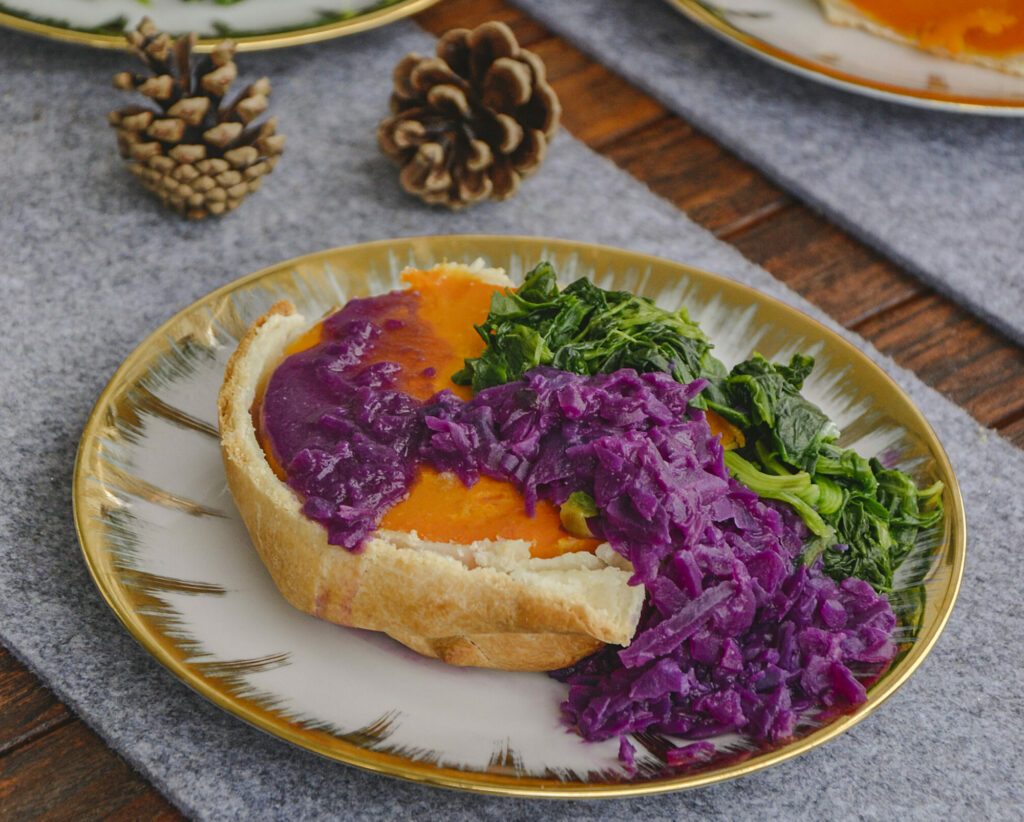 Desert: Baked apples
4 Personen
CO2 pro Person: 191g
Ingredients
4 Don Bosco apples
40g raisins
1 shot of rum
8 walnuts
10g butter
1 tsp. cinnamon
1-2 tbsp. cane sugar 4 cinnamon sticks
1 glass of orange juice
Preparation
Soak the raisins in rum for a few hours. Preheat oven to 180°. Wash the apples, cut off the tops and cut out the cores. Hollow out the apple generously and cut the apple chunks into small pieces.
Heat butter in a frying pan and roast the finely chopped walnuts. Dust with sugar. Mix in the apple pieces and raisins, season with cinnamon and cook on low heat. Fill the apples evenly with the mixture, put the lid on top and pierce a cinnamon stick in the middle. Baste the apples with orange juice so that they are slightly in liquid. Bake for about 40 minutes. Serve with powdered sugar. Optional: with vanilla ice cream or cream.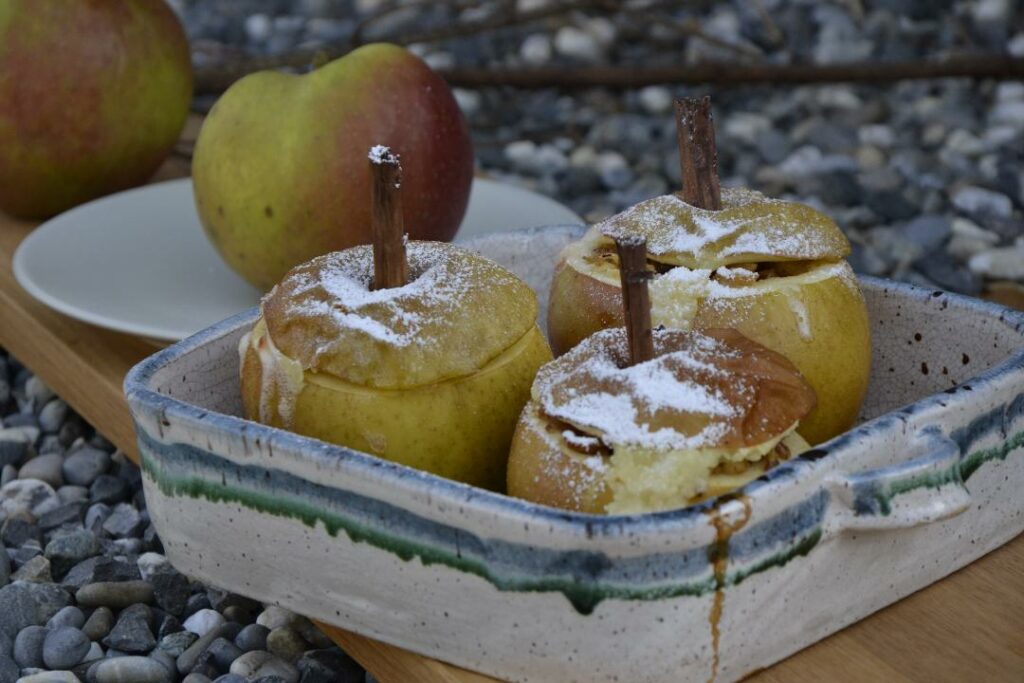 And what is your personal tip for a climate-friendly Christmas?
Article by Alessandra Willingsdorfer