A cup of coffee in the morning, a glass of wine in the evening, and a bottle of mineral water in between. Have you ever wondered about the environmental impact of beverages? I looked into the eco-climate footprint of drinks and found out why the cheapest beverage option is also by far the best option for the climate.
In comparing the environmental impact of beverages, I first looked at the environmental impact points (EP) of each beverage. How high the EP is for a drink depends on how high the emissions are during production. It's really quite simple: the more a beverage's emissions (or resource consumption) exceed the politically set environmental protection target, the higher the EP. In this way, the life cycles of one liter of a beverage can be compared.
Drinking water from the tap – by far the most climate-friendly drink
The resulting life cycle assessment shows that drinking water (1.4 EP) takes the undisputed first place. Beverages such as coffee (1,869 EP), milk (2,593 EP), beer (1,769 EP) or red wine (9,552 EP) perform massively worse. The reason that these beverages have many times higher EP is due to the way they are produced, bottled and transported, as CO2 is created in each step.
The matter of packaging and transport routes
But just drinking tap water is probably not the solution for most of us. So what if you're craving a refreshing soft drink or a cold beer on a hot summer day? I'll show you what to look for when choosing a beverage.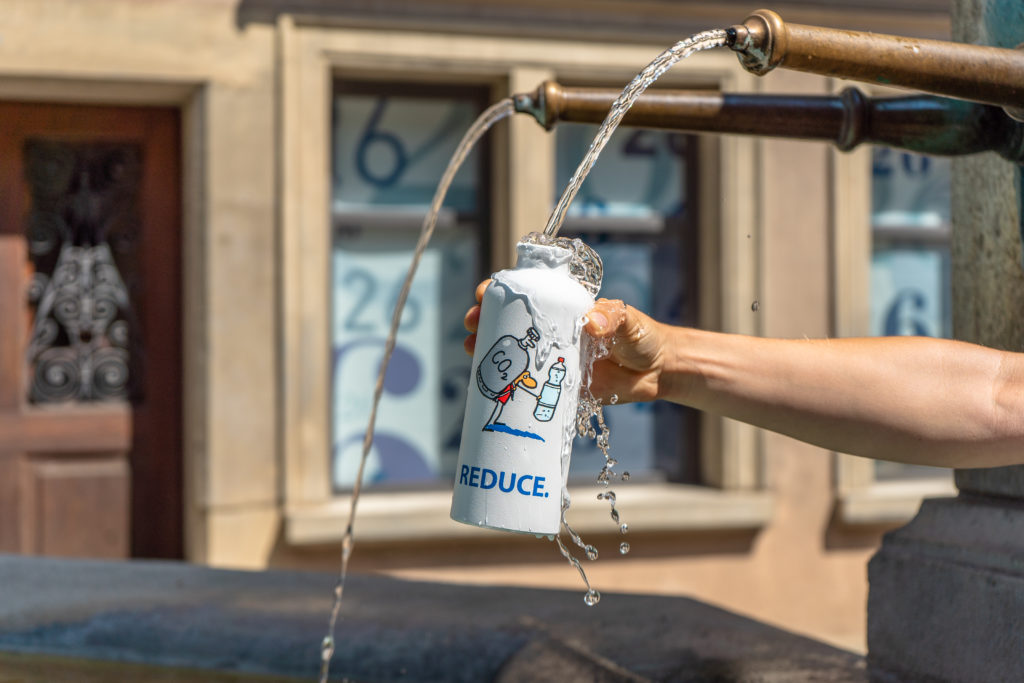 Tip 1: Packaging
As a rule, reusable packaging is always better for the climate than disposable packaging. Reusable bottles are usually refilled regionally, and among other things the emissions generated during transport can be kept to a minimum. Disposable variants and beverage cartons, on the other hand, are less environmentally friendly due to their energy-intensive production and more difficult to recycle due to their composition. 
Tip 2: Transport routes
Not only does packaging play a central role, the transport routes can have a massive impact on the ecological balance.  Aluminum cans, which were considered polluters for years, now have dramatically improved their eco-balance thanks to new manufacturing and recycling methods. If the transport route is included in the comparison, an aluminum can could be even more environmentally friendly overall than a glass bottle. The biggest environmental offender in terms of packaging remains the disposable glass bottle. 
Tip 3: Organic certification
If you stroll into the beverage section of the supermarket, the question quickly becomes which beverage are you able to purchase with a clear conscience. Among other things, the type of production plays a role here. If a product is grown organically, it is usually more climate-friendly. Looking at coffee, we can see that coffee from mixed cultures is far more sustainable than that from monocultures. An organic label can be an indication that the coffee was grown organically.
The same applies to wine as here, too, an organic label indicates that the grapes are organically grown. Also, the route and type of transport play a big role in determining whether a wine is climate-friendly or not. In terms of CO2 emissions, long truck journeys or air transport are the most damaging. It is therefore advisable to choose regional products whenever possible. 
In short, beverages from the region in reusable packaging from organic farming are the most climate-friendly. It is well worth paying attention to the packaging, production and origin when choosing a beverage and thus contributing to climate protection. And for those who want to be absolutely sure, the most climate-friendly option by far is to pour a glass of water directly from the tap. 
Article by Lorena Oberlin